So, who am I anyway?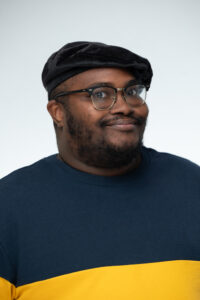 I'm Finn Gardiner, and I'm a Boston-based queer, Black, and disabled writer, designer, community organizer, speaker, editor, researcher, advocate, activist, and artist. I'm a fighter for what I believe in—a culture of accommodation, where people are able to put their differences aside and work toward a better future together. I'm also a hater of management-speak, jargon, and buzzwords, and a lover of cats, mid-1980s Madonna, melodic metal, matcha tea ice cream, and foreign languages.
Professional interests
Inclusive healthcare. Accessible technology. Intersectional perspectives on disability. Bioethics. International disability policy. Mental health. Autism and employment. Antiracism. Gender, sexuality, and disability. And that's just the beginning. I have a variety of professional interests, and I've had the privilege of holding talks, workshops, classes, and trainings on those topics for multiple audiences, including undergraduate students, disability professionals, healthcare workers, researchers, and self-advocates.
I've also been on multiple discussion panels, including the 2016 White House Forum on LGBT and Disability Issues and the 2019 United Nations World Autism Day event, as well as panels hosted by Neurodiversity Rising, the 2016 Disability & Intersectionality Summit, the MIT Communications Forum, the Association for Autism and Neurodiversity, and the American Association for Intellectual and Developmental Disabilities.
Organizations I've worked with
I've worked for a number of disability and community advocacy organizations, including the Autistic People of Color Fund, the Autistic Self Advocacy Network, the Lurie Institute for Disability Policy at Brandeis University, the Institute for Community Inclusion, and the Leadership and Education in Neurodevelopmental and Related Disabilities (LEND) program at the E.K. Shriver Center at UMass Chan Medical School. I've also been on the Human Services Research Institute's board of directors for seven years as of 2023.
Education
Certificate in Leadership and Education in Neurodevelopmental and Related Disabilities (LEND), University of Massachusetts Chan Medical School
Master of public policy, Brandeis University
BA in sociology, Tufts University